Kaths Cottage
Your Canterbury Home from Home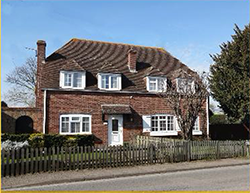 Welcome to Kaths-cottage.com,  the home of our comfortable holiday cottage at the centre of an old Kentish village just 2 miles from the historic city of Canterbury.
Beautifully furnished and equipped, Kath's Cottage is the perfect base from which to explore this fascinating corner of the country.
Wander through 2000 years of history in Canterbury or visit wonderful old seaside towns like Whitstable, Broadstairs and Ramsgate; pop  up to London for dinner and a show or even take the Eurostar across to Paris for lunch.
 But if you are looking just for a quiet holiday in the country, Kath's Cottage has that well covered too. Take a walk from the cottage, through apple orchards and into The Blean, one of the largest area of ancient broadleaved woodland in Southern England and home to a wide variety of wildlife, including Nightjars, Nightingales, Woodpeckers and Woodcocks.
And on the way home, call in at the Golden Lion Pub just 100 yards from Kath's Cottage for a delicious meal washed down with a pint of Shepherd Neame Kentish ale.