Kaths Cottage
Your Canterbury Home from Home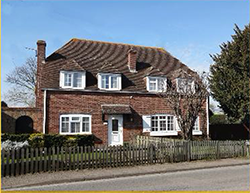 Welcome to Kaths-cottage.com,  the home of our comfortable holiday cottage at the centre of an old Kentish village just 2 miles from the historic city of Canterbury.
Beautifully furnished and equipped, Kath's Cottage is the perfect base from which to explore this fascinating corner of the country.
Wander through 2000 years of history in Canterbury or visit wonderful old seaside towns like Whitstable, Broadstairs and Ramsgate; pop  up to London for dinner and a show or even take the Eurostar across to Paris for lunch.
 But if you are looking just for a quiet holiday in the country, Kath's Cottage has that well covered too. Take a walk from the cottage, through apple orchards and into The Blean, one of the largest area of ancient broadleaved woodland in Southern England and home to a wide variety of wildlife, including Nightjars, Nightingales, Woodpeckers and Woodcocks.
And on the way home, call in at the Golden Lion Pub just 100 yards from Kath's Cottage for a delicious meal washed down with a pint of Shepherd Neame Kentish ale.
Published Reviews and Testimonials
Kath's Cottage consistently receives 5 star reviews on all the agency sites. The selection below is taken from Holiday lettings and Flipkey (both Tripadvisor sites) and from the Owners Direct Web site..
*****   We had the pleasure of staying here for the past week. The cottage is beautifully clean and well equipped. The enclosed garden was a bonus for us with a young dog. What made this stay so enjoyable was the lovely local villagers we meet in the pub not 50 yards from the house. The food was excellent in the pub and everyone was friendly. The walks in the fields were amazing and just down the lane at the side of the house. We have seen foxes, rabbits and all sorts of wildlife. This is a great cottage to unwind and enjoy family time. Close to all the tourist spots if that is what you like.
Jocelyn D on TripAdvisor Flipkey Web Site.  Date of stay August 2016
***** I am very well travelled, but this was my first English cottage experience and it turned out to be a great one. For this trip I travelled together with my partner and young son. Kath's Cottage is very clean, fully stocked with everything you may need (incl. cot, high chair and fast wifi), well located and the owner Colin is a pleasure to do business with. We felt at home the minute we walked into the door. It's not too far from the city center but I would recommend you have a car. Which you can park in front of or in the garage that comes with the cottage. The bath room is functional, water pressure leaves somewhat to be desired, but I've encountered that before in the UK, and they're probably old pipes. All the information from and communication with Colin is easy, fast and friendly. Easy to book via Trip Advisor and none of that deposit nonsense. Food and drinks are in the pub right around the corner, or my tip is the butchers & artisans foods (farm shop) a few minutes away to stock your kitchen with fresh and delicious food: Alworths (.co.uk) in Sturry Hill, Canterbury. My conclusion: no doubts or reservations needed, I'm confident your stay in Kath's Cottage will be as wonderful as ours was. And the Canterbury Cathedral is one of the most beautiful I've seen anywhere in the world so a must see if you're in the South of England.
Leon K Amsterdam,  Netherlands on TripAdvisor Tripkey site.  Date of stay May 2016
infoR9087BS  Malaga, Spain on Tripadvisor Holiday Lettings site  
Date of stay Jun 2016
***** Travelling with our two uni age daughters. Had a busy weekend around Canterbury using Kath's Cottage as a base. Inside, comfortable lounge and dining area and well equipped kitchen. Radiator heating through out (not that we needed it) and WiFi. Outside there is a well kept garden with table and chairs. Off road parking and a garage are available just a minute drive from the house at the end of the road. We have a great weekend and would definitely book again.
Simon H on TripAdvisor Holiday Lettings Web Site   date of stay September 2016
We had the pleasure of staying in Kaths cottage. This cottage is set in the village of Broad oak less than three miles from Canterbury with the village pub only 50 yards away. It is very well equipped and is pet friendly. I spoke to the owner Colin by phone and found him very friendly and helpful. We hope to come back here again in the future.
Damien Murray Armagh, UK Date of stay Jun 2016
First impressions of the property were a lovely and tidy frontage - always a good sign. Once inside, a very welcoming and homely cottage. Spacious lounge and dining area, though we spent most of our time in the conservatory. Kitchen very well equipped. Great location for Canterbury and the coast Overall a wonderful welcoming and more importantly, a homely place to spend a holiday. Hope to return again. THANK YOU
***** The cottage was very comfortable and warm (we were using it a a bolt-hole while a central heating boiler was replaced). Visitors were impressed with the decor and cleanliness.
Peter W on Tripadvisor Flipkey site  Date of stay February 2016
***** Cottage very well equipped. Warm and comfortable for 10 night stay. Nice little touches like lots of fresh towels, neighbour who knew a lot about the house and could help smooth things like putting out garbage. Owner very supportive with advice, written instructions, etc. Great value for money.
John20134  Ottowa Canada   Date of stay January 2016
***** Es un cottage espacioso para cuatro persona excelentemente equipado, muy luminoso, con un bonito jardín, aparcamiento propio. Estuvimos genial!!!
(It is a spacious cottage for four person excellently equipped, very bright, with a nice garden, own parking. We were great !!!)
**** A lovely place to stay with a nice garden for barbecues. Good quality furnishings too. Really enjoyed it.
Visitor from London 
Date of stay August 2011
*****  This was our second time staying here for a short break. The property is in a quiet location on the outskirts of Canterbury making it ideal for exploring the area. The property is clean and in good condition with all modern facilities. We will be back again!
Gordon Shropshire on Tripadvisor Flipkey site
Date of stay  August 2011